This edition of Sunken Place Saturday is a double issue for two reasons: Ray Lewis and Steve Harvey. These two have never missed an opportunity to coon for ingratiate themselves with wealthy, powerful white men.
First up, everyone's second favorite football Hall of Fame accused double murderer, Ray Lewis:
Ray Lewis has really been diving head-first into the Sunken Place these days. The former double murder defendant/Ravens football great has gone out of his way to criticize Colin Kaepernick and his national anthem protest. Ever the faithful manservant to white supremacy, Lewis has articulated and "yassuh-ed" every stupid rationalization coming out of the mouths of Kaepernick's detractors. Lewis' latest verbal buck and shuffle is a complaint that Kaep's girlfriend, Nessa Diab kept him from getting signed to the Ravens. Diab very famously posted the photo of Lewis and Raven's owner Steve Bisciotti embracing à la Stephen and Mr. Candy. The picture didn't have a caption, but it definitely spoke volumes, nonetheless.
Ray-Ray complained the photo comparison was a "racist gesture", and I'm not sure why. The comparison was pretty apt if you ask me. Bisciotti is an owner. Mr. Candy was an owner. Stephen worked for Mr. Candy for decades. Ray-Ray worked for Massa Mr. Bisciotti for 17 years. Stephen frequently and loudly criticized Django. Ray-Ray frequently and loudly criticized Kaepernick. Stephen was Mr. Candy's emissary and cosigned everything he did. Ray-Ray was Bisciotti's emissary and cosigned everything he did.  Both white men have used their faithful black manservants as their personal Negro whisperers. Ray Lewis seems committed to the notion that Mr. Bisciotti is "good white folks" whose sensibilities Diab and Kaepernick shouldn't upset.
I don't know what to make of guys like Ray Lewis. He doesn't see the ridiculousness of pretending that Bisciotti didn't blink twice about having a former double murder defendant signed to his roster, but somehow really struggled with whether or not to sign Kaepernick (who has committed no crime whatsoever).  For that idiocy and more, Ray Lewis has earned his place in the Sunken Place.
Next up, we have everyone's favorite oversized porcelain veneer enthusiast, Steve Harvey.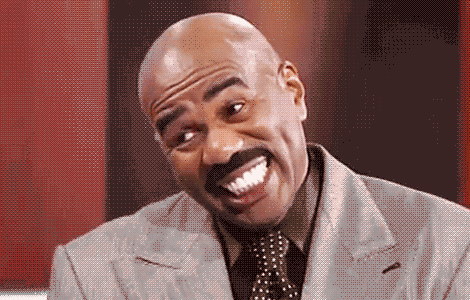 When he's not busy giving women bad information in his books and in beauty pageants, he is a full-time white supremacy apologist and opportunist. Whether it's allowing disgraced racist Paula Deen to participate in his mentorship program for black boys, or agreeing to sit down with Donald Trump to discuss the needs of the black community, Harvey is a willing flag-bearer for white supremacy if he thinks it can get him some press or earn him a coin or two. This week, he lamented that he should have listened to his wife and not taken the meeting with Trump, and that he was "surprised" at all the backlash he received for meeting Foolius Caesar in January.
However, Harvey still defended his decision to take the meeting saying:
"I have an obligation to take a seat at the table when invited." He continued, "Change can only happen if you sit at the table. If you're not at the table you can't even… suggest what we should be doing. Therefore, it was very important for me to take the meeting. The only way we can heal the divide in this country is through conversation…If I'm going to keep getting stabbed at, then at least while you're stabbing me, you should understand my intent for taking the meeting in the first place."
I call bullshit. Why on earth, with all the talented academics, politicians, and civil rights leaders in the black community, would a newly elected president think that the host of Family Feud is the best person to reach out to in that community? Harvey knew he was being used as window dressing and he was okay with it. He figured that the meeting would ingratiate him with people who only watched Fox News and Family Feud on TV. Now, I'm not saying that those people are Trump voters, but if the Cracker Barrel fits, Steve Harvey's going to shuck and jive in it. That's why Steve Harvey has earned his spot in this weekend's edition of Sunken Place Saturday.