The only thing more shocking and appalling than the number of high-profile men exposed as sexual harassers, assaulters, or rapists in the post Harvey Weinstein era, is how dreadfully inadequate the apologies are.  One would assume that given the sheer volume of revelations coming to light, the subsequent apologies would get better and better. After all, it's not often that life gives you so many examples in quick succession of what not to do when responding to allegations of sexual harassment or assault. Sadly, the pitiful list of half-hearted and wrong-headed apologies issued so far prove that such an assumption would be wrong.
Some, like Alabama Senate candidate Roy Moore refuse to apologize at all, and instead have taken the Donald Trump/Bill O'Reilly route of denying all the allegations made against them by multiple accusers. Trump, O'Reilly, Moore and their ilk deny any wrongdoing whatsoever and instead pretend that they have all been victims of elaborate smear campaigns that have lasted decades.  A bombshell article in the Washington Post featured four women who accused Moore of sexual molestation and other forms of impropriety on the record.  Since then, more women have come forward with similar accusations. Leigh Corfman, one of the accusers, alleges that Moore molested her when she was 14 and he was 32. Moore responded to Corfman's allegations in this way: "These allegations are completely false and are a desperate political attack by the National Democrat Party and the Washington Post on this campaign." Leigh, by the way, voted for Donald Trump.
Others, like Senator Al Franken from Minnesota have immediately issued acknowledgements and apologies, but with enormous caveats and equivocations. Last week, kabc.com radio personality Leeann Tweeden accused Franken of kissing her without her consent and groping her in her sleep while the two worked together on a USO tour in 2006. They were set to perform in a skit together when Tweeden says the unwanted advances began. She released a photo of the groping incident as well. For his part, Franken initially responded with the following underwhelming apology: "I certainly don't remember the rehearsal for the skit in the same way, but I send my sincerest apologies to Leeann. As to the photo, it was clearly intended to be funny but wasn't. I shouldn't have done it."
Good god. Maybe it's my tiny lady brain making me stupid, but what part of groping an unconscious woman is supposed to be funny? Why does this apology include the word "but?"
Franken has since released a more carefully worded, but still underwhelming statement, after his first one was almost universally scorned.
Just today, veteran journalists Charlie Rose and Glenn Thrush were outed as harassers. For his part, Rose released the following statement on Twitter: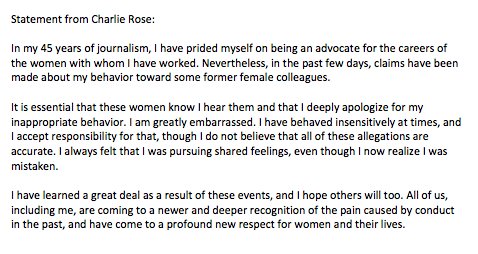 "I accept responsibility for that, though I do not believe that all of these allegations are accurate." Why is there always a "but" with these "apologies?" It is unacceptable that despite a veritable deluge of revelations and admissions, that powerful men are still issuing qualified apologies to the victims of their unwanted advances and assaults.
Since it seems that it's only a matter a time before all of our favorite journalists, captains of industry, politicians and entertainers are revealed to be sex offenders, I would suggest that all of these powerful men utilize their well-paid publicists to pre-emptively out themselves as abusers and issue thoughtful, meaningful apologies, if for no other reason than to spare their careers.
Such an apology should go something like this: "I recognized at the time that there was a power imbalance between me and the women I hurt with my actions. I knew that said power imbalance would either coerce women into acquiescing to my advances under duress or would keep them from reporting me to people who could do something about it if they refused. I exploited that power imbalance because I felt that my wealth/stature/influence entitled me to sexual access to these women. I couldn't have been more wrong. I used my power/influence/status to exploit women and for that I'm sorry."
Let's be clear. The reason that these apologies fall miserably short is because these men really don't appreciate that what they did was wrong. Senator Franken in his initial statement thought it should have been obvious that grabbing a sleeping woman's breasts was an attempt at humor. Charlie Rose felt that despite admitting he was mistaken in thinking that he was pursuing mutual attraction with his accusers, he still insisted that not all the allegations were correct. In other words, these men felt that their intentions were more important than the actual effect of their actions. It was the women who misinterpreted the situation, not them.
We are witnessing only the tip of the iceberg so far. In the coming weeks and months, many more men will be outed as harassers and abusers, and if the current trend continues, they will all issue outright denials or qualified apologies.